Pregnant Wife, Family and Community Honor Colorado Firefighter Who Is Donating His Organs
Littleton firefighter Cody Mooney tragically lost his battle with a brain tumor on Saturday, but continue to help people even after his death.
31-year-old South Metro Fire Rescue firefighter first received the diagnosis that he had a tumor in his brainstem in June 2017. 
Two weeks ago Cody had his first surgery and spent a few days at home recovering, but complications followed and even after a valiant fight, Cody lost the battle on Saturday night.
South Metro released a video shortly after Cody's death of his body being escorted down the Littleton Hospital hallway to perform one more lifesaving act at Littleton Adventist Hospital in Denver. As an organ donor, Cody will help save and improve the quality of many lives. 
As hospital staff pushed the hospital bed down the hallway, staff and members of South Metro lined the hallway and saluted in honor. Cody's wife Emma, expecting the birth of their fifth child in a few weeks, wept as she walked alongside her late husband's bed. 
(1) Saving lives even after his last breath, Firefighter Cody Mooney was honored by family, friends, fellow firefighters and hospital staff @LittletonHosp tonight while being escorted to donate organs after losing his courages fight against an aggressive brain tumor. pic.twitter.com/vyf53wAWOF

— South Metro Fire Rescue (@SouthMetroPIO) March 3, 2019
Cody was loved by those who knew him and made a difference in the lives of others, as Kevin Mooney told CBS4 after the tragic loss of his son:
"He made us all better people by what he did and how he lived. He was the kind of guy, where if you showed up, he was your friend from the moment you met him."
Besides mourning the death of her husband, Emma has four young children to take care of, and another one on the way who would never get to meet their dad. 
But Cody was also the sole provider for the family and with hospital bills and living costs, Emma needs a small miracle. Littleton South Metro Fire is doing what they can for Emma, and a GoFundMe page got set up in support of the grieving family.
(3) South Metro personnel are deeply saddened by the tragic loss of Cody and will continue to support his family through this difficult time. We will share more information when it becomes available.

— South Metro Fire Rescue (@SouthMetroPIO) March 3, 2019
It doesn't come as a surprise that some men and women, especially those that vowed to protect and serve, choose to help others in need by being organ donors.
When police officer Collin Rose from Detroit died in action, hospital staff and members of the police department lined the hallways in honor much the same as they did for Cody.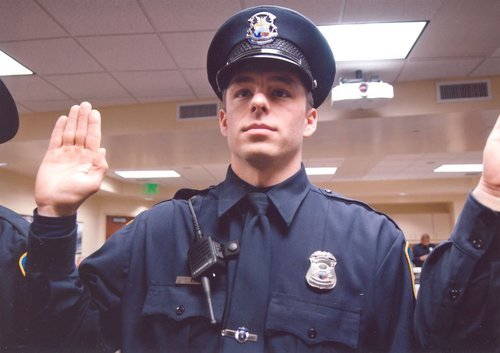 Collin also donated his organs and helped many lives, as Tim Makinen from the Gift of Life program
said
:
"Officer Rose was able to donate tissue, and by doing so, he will help up to 75 people improve their lives. The impact is huge, and that's why we're so grateful for this young officer who again, gave his life in the line of duty, served others and now will continue to do so through these gifts."
The last selfless act of giving life to many in desperate need, a life-changing difference that will last a lifetime through which these brave souls will live on.
For some people, organ donation is their only chance of survival. Last year a family from Arlington, Kentucky documented their two-year-old daughter's emotional final hours in the hope it will have other people consider organ donation.