Bride Who Fell for Bridesmaid before Wedding Shares They Now Live Happily as a Threesome
When Karalyn Henry walked down the aisle to marry her sweetheart, she unexpectedly got the relationship of her dreams.
Justin and Karalyn had been together since childhood. She loves Justin dearly, but when she was about 17 years old, Karalyn realized she romantically liked both sexes. 
At first, she kept her feelings to herself, Karalyn grew up in a Christian family, and she was unsure how her friends and family would react.
The 22-year-old decided to tell her partner Justin, and much to Karalyn's surprise Justin merely said, "Well you can just date a girl on the side."
In 2016 an online message from a woman named Lana caught Karalyn's eye. The two started communicating, and soon Karalyn realized she had a crush on Lana, but the only problem was that Lana lived in Ireland and she was across the ocean in Ohio. 
Lana and Karalyn spoke for months, and when Karalyn got married Lana flew in to be there for the special day as a bridesmaid. Having met in person for the first time on her wedding day, the trio realized they had feelings for one another as Karalyn elaborated:
"She flew over for our wedding to be a bridesmaid and it was amazing! That was the first time we ever met in real life. It was perfect in every sense of the word, the best day of my entire life. I remember all of us, a little drunk, arms locked, and just going in circles laughing and singing. I cherished every moment of that day, and while I'm sad it's over, I will never forget it!"
Even though Lana returned to Ireland after the wedding, the trio lives together in a polyamorous relationship when she visits.For Karalyn it turned into the perfect relationship, and she couldn't be happier as she added:
"While she was here, it wasn't that hard at all. We all took turns being in the middle of the bed – the best spot in a polyamory relationship. And when she comes back, we have plans to go on dates together and separately. Seeing both of my partners together, holding hands, cuddling – it's adorable, and I'm just so happy to see them so happy!"
But Karalyn is not blind to society's views on polyamorous relationships, which is why she shared her experience. In Karalyn's experience, there is a lot of misconception around polyamory especially around fidelity as she said:
"Even when I explain to people that it's consensual between all partners, they still consider it cheating. The other one is people saying that I love my husband less because I date other people."
Friends and family are supportive of Karalyn, Justin, and Lana after Karalyn explained the situation and they saw how happy the trio is.
While this wedding resulted in an unexpected polyamorous relationship, another ended very differently for a bride whose husband slept with her bridesmaid the day before the wedding. Her one bridesmaid shared the story but refused to give out names.
But that is not all, the day after they were supposed to get married, the groom eloped with the bridesmaid and wanted to use money the couple had in their joint bank account for their honeymoon.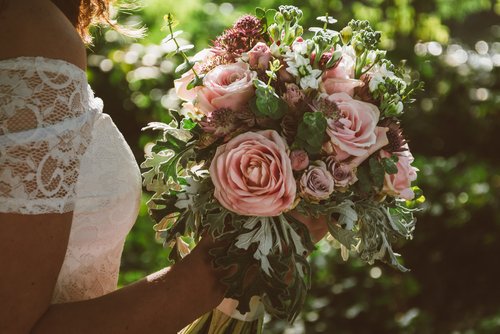 Instead of breaking down in tears, the would-be bride
described
the situation as "dodging an atomic bomb" as she cleared out the joint bank account, donated his clothes to charity and gave his personal effects to his mother so that he could deal with her "wrath."
Wedding day disasters are plentiful and varied, and one groomsman would also never live down his actions at his best friend's wedding. The setting was beautiful, and the couple was in the process of exchanging vows when the unthinkable happened.