All-Male College Professor's Photo Went Viral as He Carried Student's Baby during Class
A video went viral and rented the air due to its heartwarming content which showed a college professor carrying out babysitting duties without a glitch while a lecture was on.
In a professional setting such as a student-teacher situation where every activity is kept formal with little or no personal involvement, Professor Alexander Nathan of Morehouse College showed chivalry at its best when during a lecture, he assisted one of his students in carrying his infant daughter.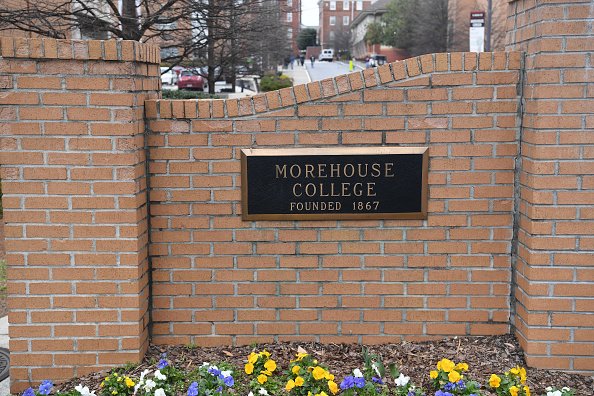 Wayne Hayer, 26, wasn't fortunate enough to find a babysitter for his girl child, his wife wasn't available as a result of some errands she had to run.The Morehouse student had no other option but to take his five-months-old baby with him to school. Hayer could not afford to miss his algebra class.
While at school, Hayer relayed his plight to Professor Nathan who offered without hesitating to carry the baby so that the father could concentrate on the lesson.
The other students in the class were amazed by the selflessness their professor displayed. Deciding not to keep it to themselves, several of them took photos and made videos of the not-so-usual kindness exhibited by their professor.
The videos and photos gained momentum on several social media platforms. On Twitter, a student present during the whole thing posted a photo of the professor with the baby strapped to his chest while he taught.
He also captioned: "My professor NATHAN ALEXANDER said 'I'll hold her so you can take good notes! #HBCU #morehouse #Respect.
Student came to class today with his child due to no babysitter or anybody to watch her while he was in class.
My professor NATHAN ALEXANDER said "I'll hold her so you can take good notes!" #HBCU #morehouse #Respect pic.twitter.com/oogIqetseS

— TheOriginal™ (@Original_Vaughn) March 1, 2019
The tweet garnered over, 70,000 retweets while the comment section was filled with lovely words of impressed tweeps.
Speaking with CNN, Nathan explained that his "role and goal" being an educator is to provide students with opportunities. He has proved that going an extra mile to perform his role isn't a problem.
Hayer, when interviewed, explained that he was nervous about taking his daughter to school with him. "Morehouse is an all-male college and seeing me with a baby strapped to me would make all eyes be on me." He said.
Practicing literacies (quantitative, written, visual) alongside fluency in the communities built is also very important. Let me get back to it. #mathematics #communities pic.twitter.com/lGlL84pBuw

— nathan alexander (@professornaite) December 13, 2018
Without fussing, Nathan shifted focus to Wayne Hayer as he commended the young man for his hard work and commitment as a parent.
Referring to one of his viral photos, the professor said: "This photo serves as a reminder of what parents have to do every day and how important it is to have affordable childcare." 
Baby Assata, on the other hand, was a complete darling as she cooperated during the class.  Alexander didn't leave her out as he also showed his admiration for her calm demeanor.