Meghan Markle's Top 25 Outfits With Price Tags Unaffordable For Common People
Since Meghan Markle became a Duchess, her closet has debuted some fantastic and gorgeous numbers that anyone would envy. Her fashionable appearance even earned her the People's Best Dress Star's title in 2018. And her choices go from affordable stores to high-class and well-known brands that undoubtedly have huge price tags on them.
And now that she is a royal and has access to a closet fund, we cannot think of all the possibilities she now has at hand. So with that in mind, today, we'll take a peek the Duchess of Sussex wardrobe and check some of her most costly outfits until now. Let's get started!
1. Unquestionably, the first one we have to mention is the fabulous Givenchy wedding gown that she donned on her big day. According to Vanity Fair, the sleek dress by Clare Waight Keller cost around $265,000.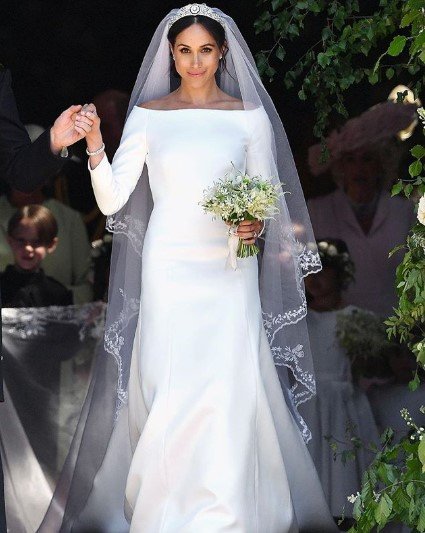 2. Keeping with the nuptials, another piece that stole the show that day was her reception dress, a sophisticated white design by Stella McCartney that cost over $157,000.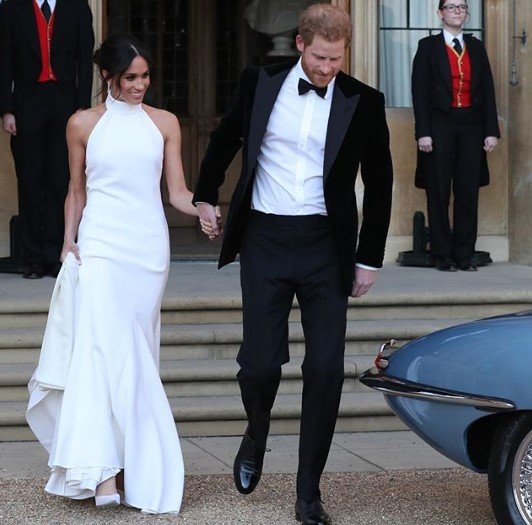 3. And before tying the knot with the love of her life, the former actress stunned the world with a Ralph & Russo dress for her official engagement photo back in December 2017. The price tag? The whopping cost of $75,000.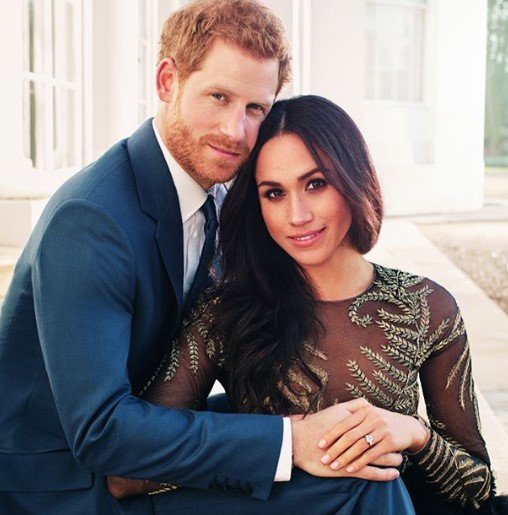 4. And for her first joint engagement with the Queen back in June, the mother-to-be opted for a tailor-made Givenchy dress worth approximately $18,000, as reported by Vanity Fair.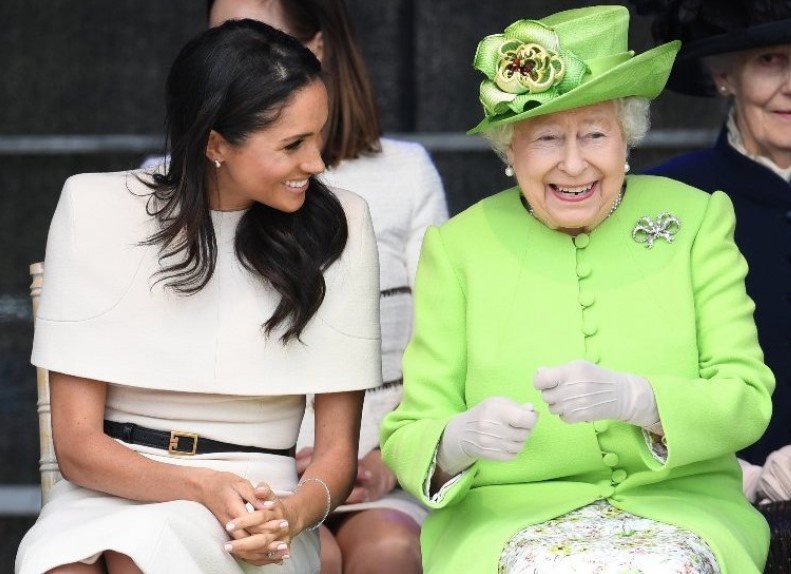 5. In February, Markle wanted to switch things up donned a Leaf Crepe black jacket by Alexander McQueen valued at $1,995 and some pants in the same shade worth $795. To complement her ensemble, she put on a pair of $625 black suede pumps.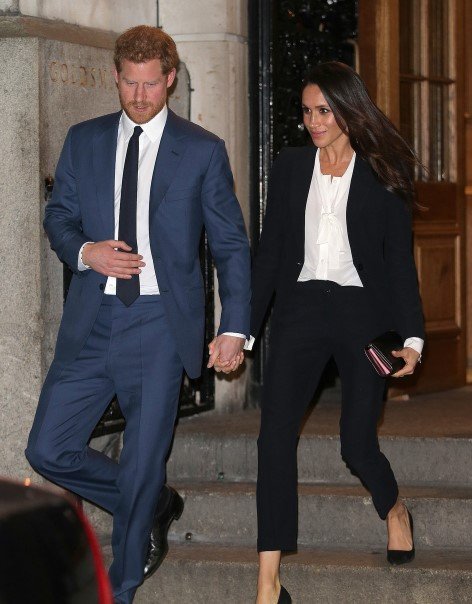 6. We fell in love with the Duchess' chic look to attend a charity polo game in July. She was dressed in a $2,190 casual denim dress that Carolina Herrera designed. Apart from that, she had Aquazzura pumps that cost $578 and an $88 J. Crew clutch.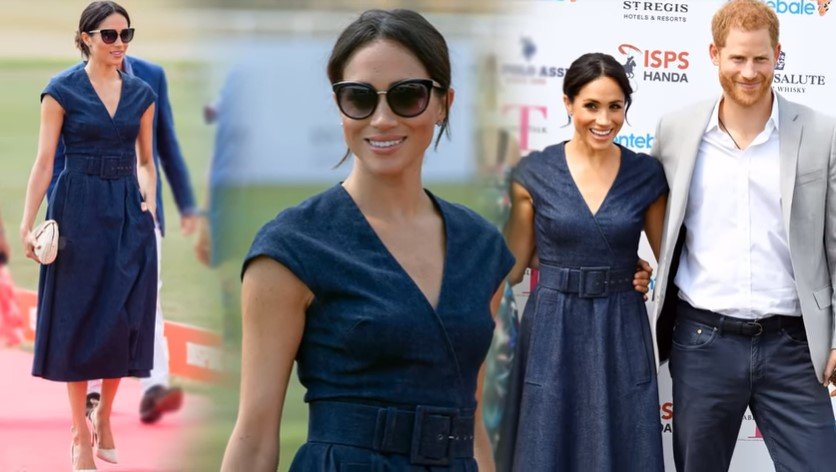 7. The night before her wedding, we got to see the bride-to-be at that time in a navy blue design by Roland Mouret that is estimated at $2,165, and that is without counting the cost of her Manolo Blahnik heels.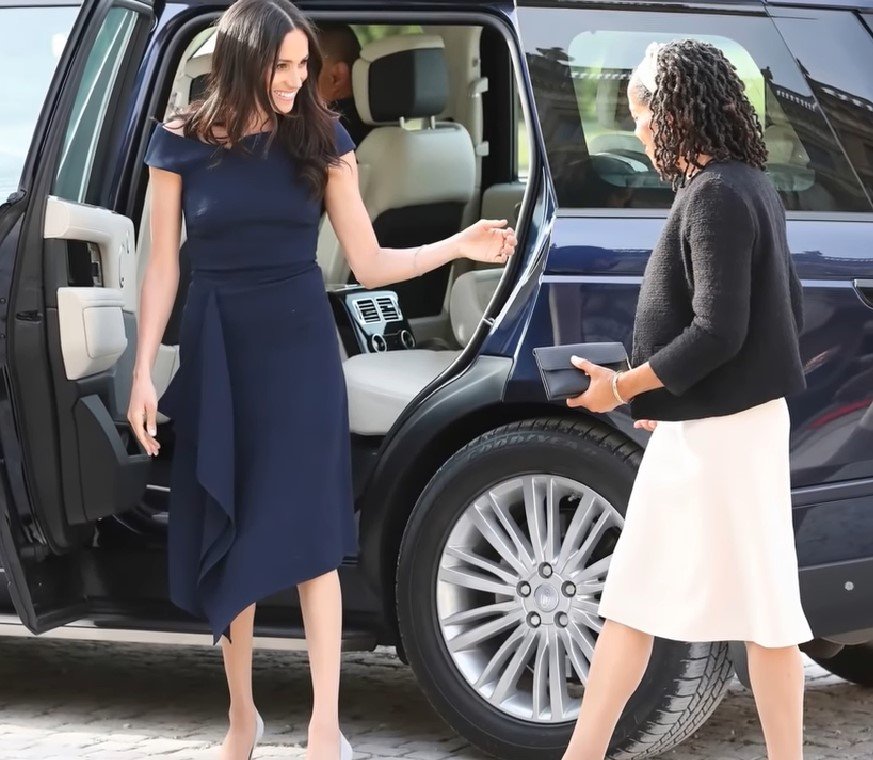 8. And talking about pinstripes, Meghan dazzled the Commonwealth Heads of Government Meeting in April with an Altuzarra belted dress that costs $1,995 with some $475 Tamara Mellon heels and a Camilla and a Marc blazer worth $700.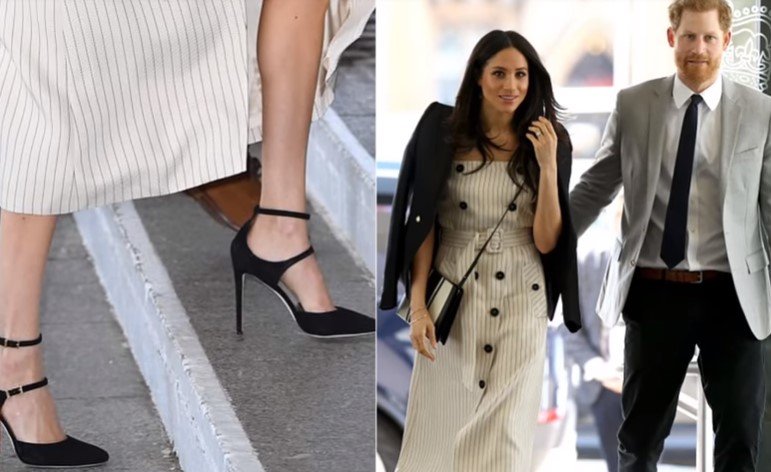 9. February 2018 was a momentous month for Markle as she had her first appearance with the Royal Fab Four to talk about their foundation. To do so, Harry's wife went for a Jason Wu wrap dress with a price tag of $1,795.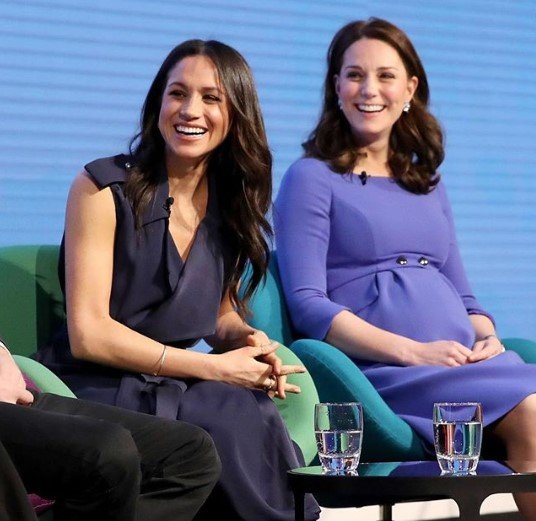 10. The stunning cape dress that the Duchess wore to attend the Queen's birthday concert last April was a beautiful yet expensive choice. The Stella McCartney number costs $1,625, plus a $3,390 Armory Zodiac clutch and a pair of $625 pumps by Manolo Blahnik.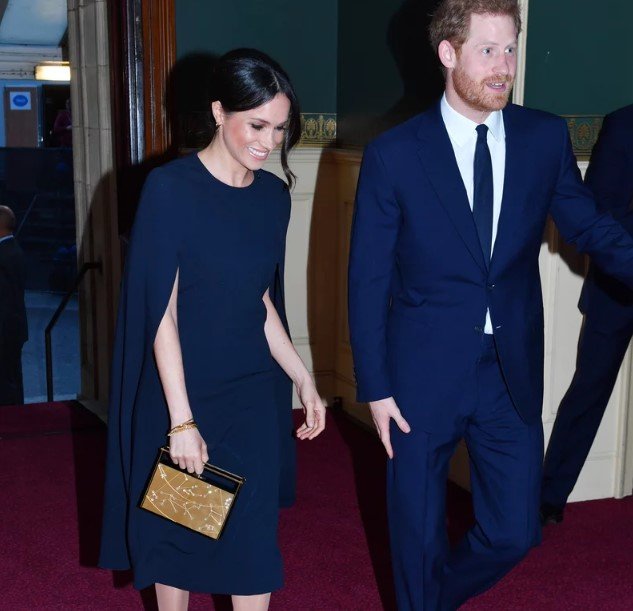 11. July was the brightest month for the royal when it comes to fashion as she donned a Brandon Maxwell lively yellow number. The sleek dress costs $1,495 and almost immediately sold out.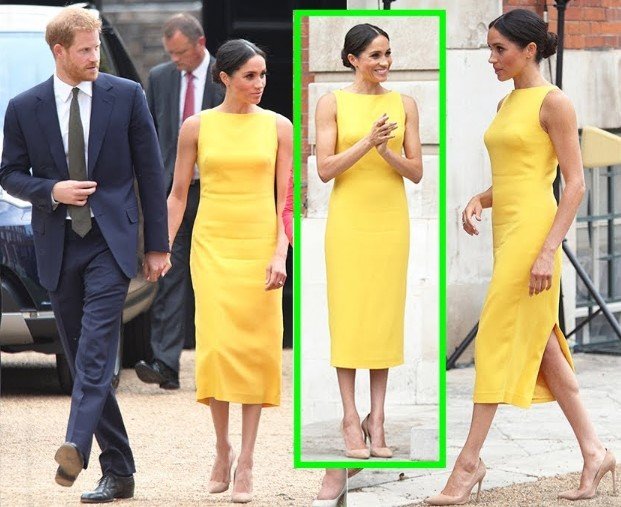 12. And for a soberer and business-casual look, Markle astonished at Nelson Mandela Centenary Exhibition with her House of Nonie trench coat dress in a cream shade. If you want to buy one, get ready to pay $824 for it.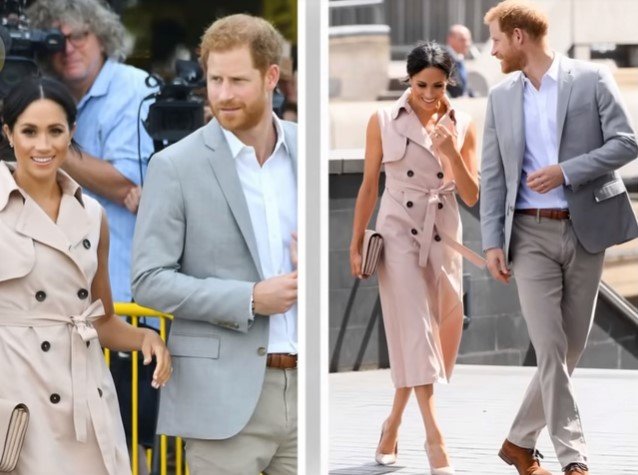 13. For her appearance after her wedding in May, Meg dressed in a demure bridal style Flavia dress by Goat Fashion that cost her $790. Also, it was her first time donning tights that she complemented with a pair of $450 Tamara Mellon heels.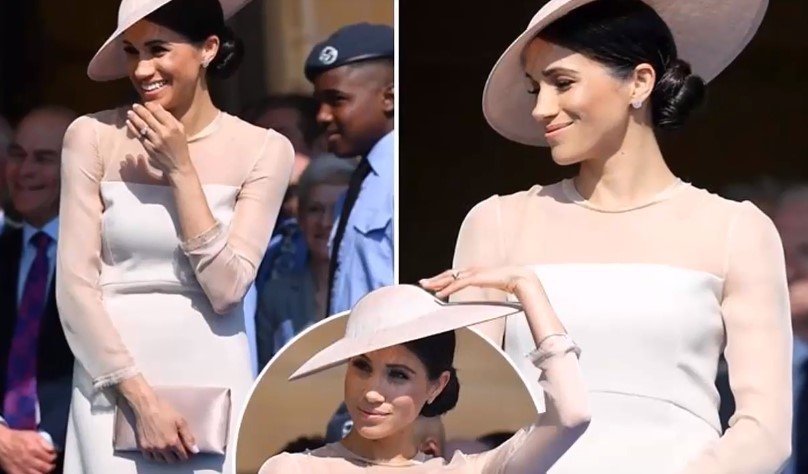 14. And we cannot forget the Mara wrap coat in white that the now expectant mother donned to announce her engagement to Prince Harry in November 2017. The Canadian brand Line The Label sells it at $750.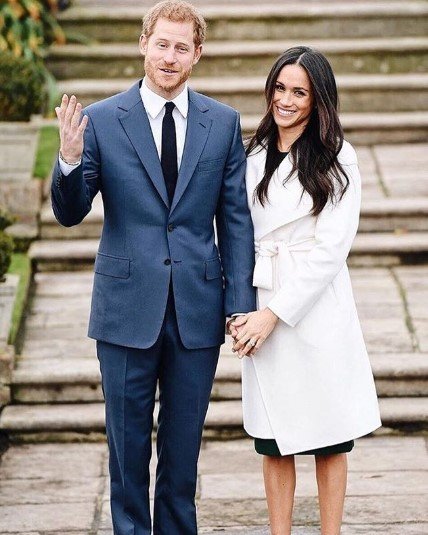 15. With a way more affordable look compared to the rest, Markle attended the Invictus Games Reception last April with a green floral dress by Self-Portrait that costs roughly $390.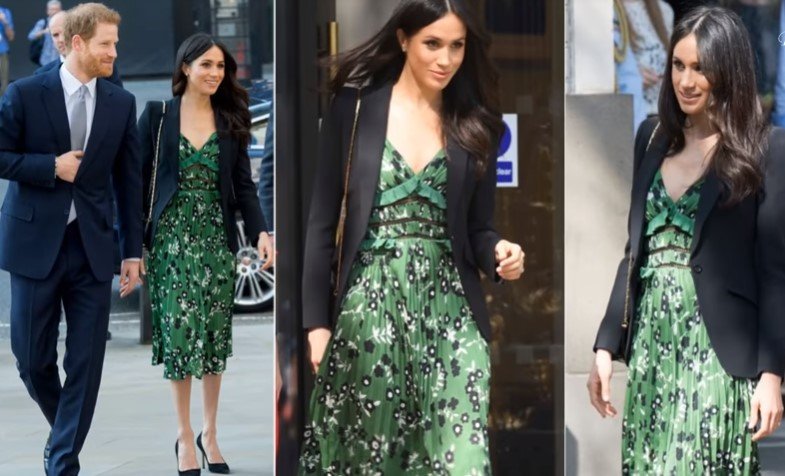 16.  In a more casual look for late September, Harry's wife was spotted with a black and navy blue outfit at the Coach Core Awards. The blouse, by Oscar de la Renta, costs $2,290, and she paired it with black pumps and some $695 trousers, both by Aquazzura.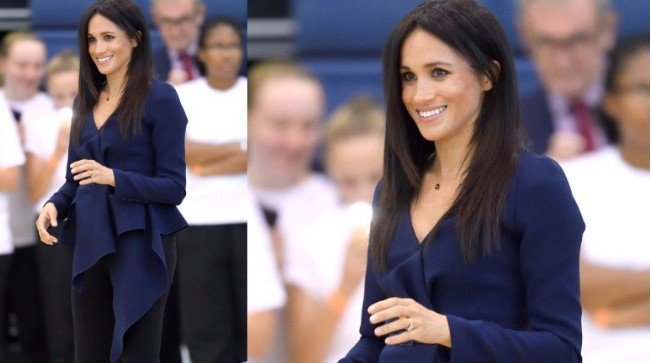 17. While in Melbourne during the Australian tour, the Duchess went for an $873 navy blue dress that Dion Lee, an Australian designer, created. To complete the ensemble, we got to see some $625 Manolo Blahnik heels.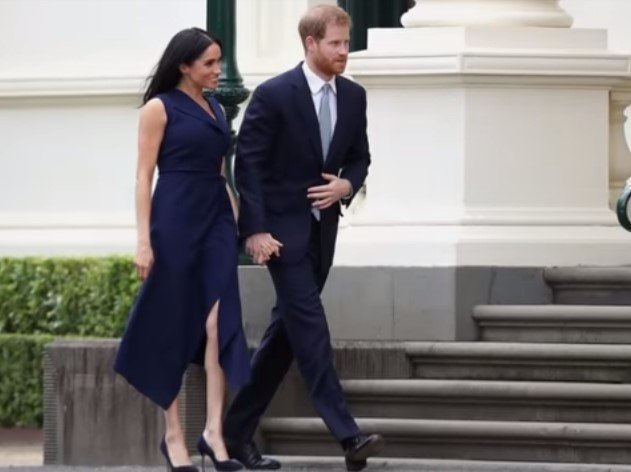 18. And turning her appearance more formal for a state dinner in Fiji, Meg wore a beautiful Safiyaa blue cape dress with a price tag of $1,431. Plus, it was one of the first times Markle cradled her baby bump. Isn't it cute?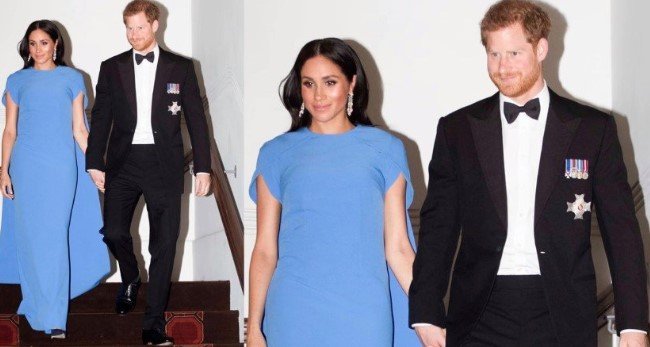 19. Meghan looked like a total princess with a chic black-and-white Oscar de la Renta gown featuring a bird design and a sheer illusion neckline for the glamorous evening at the Australian Geographic Society Awards. According to Daily Mail, the dress costs $12,816.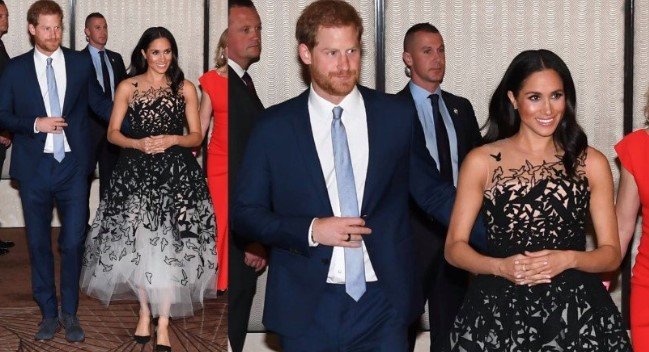 20. To pay a visit to Auckland, New Zealand in October, Duchess Meghan put on a $2,695 navy tuxedo dress by Antonio Berardi. This was a recycled ensemble as she donned it in May 2017 to watch her love play in the Audi Polo Challenge in the UK.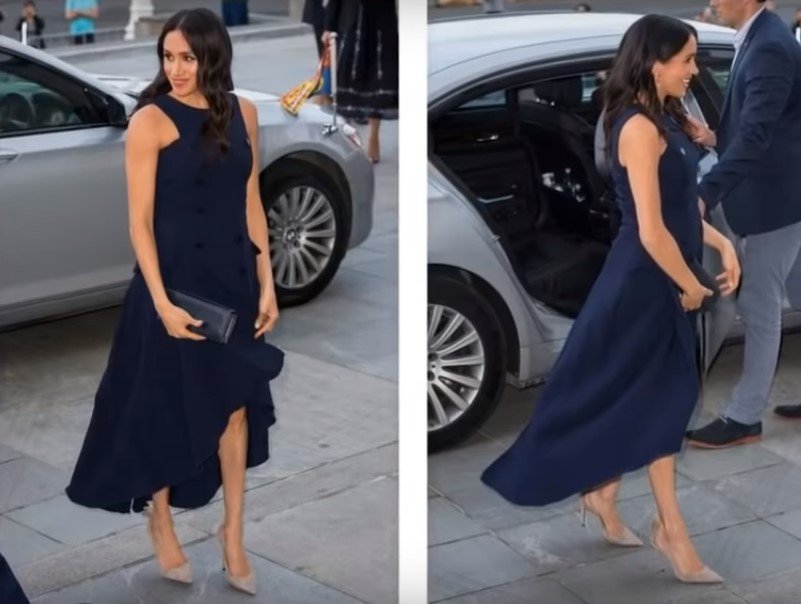 21. Someone's first Christmas as royalty is a big thing, and for hers last December, Duchess Meg looked fantastic with a deep navy coat that Victoria Beckham designed. The cashmere coat is worth $3,085, and that is without counting her black boots and her fascinator.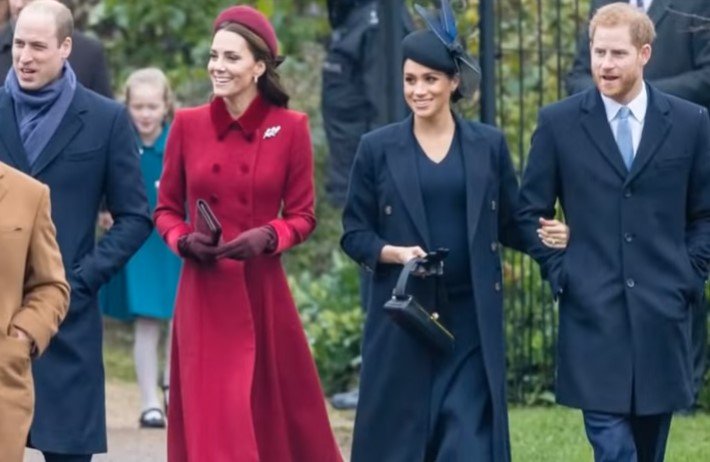 22. And with a more maternity look, we got to see the mother-to-be in January rocking an Oscar de la Renta camel coat worth $2,990, switching up the style with a pair of cow print design heels and a $218 Hatch black dress. This was her outfit to visit the Smart Works offices.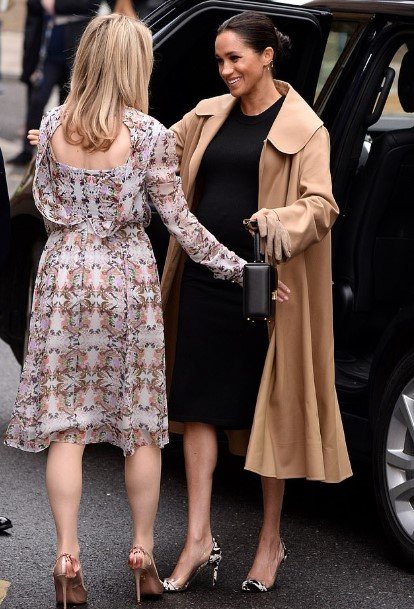 23. In January, we saw the Duchess of Sussex in Birkenhead, UK, with one of her most colorful looks so far: a Sentaler red wrap coat that costs $1,395, a $138 purple dress by Babaton, and a pair of Stuart Weitzman red pumps estimated at $409.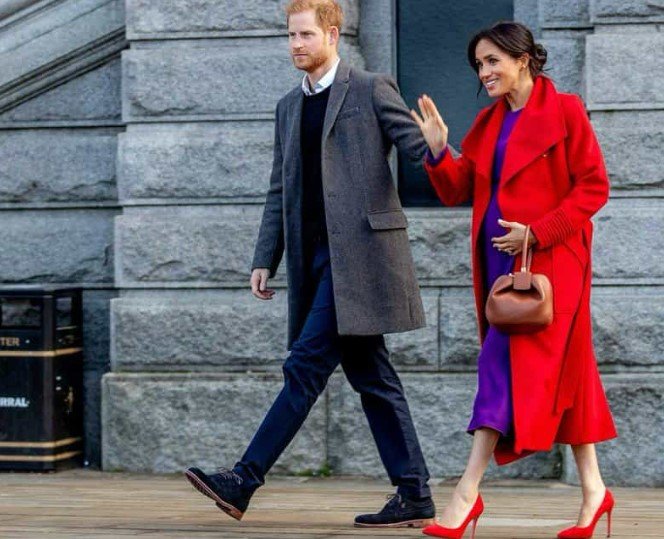 24. Meg looked absolutely stunning to attend the performance of Cirque du Soleil in January with her Roland Mouret sparkling gown that has the whopping price tag of 5,595, and that's without the $398 for her Stuart Weitzman heels.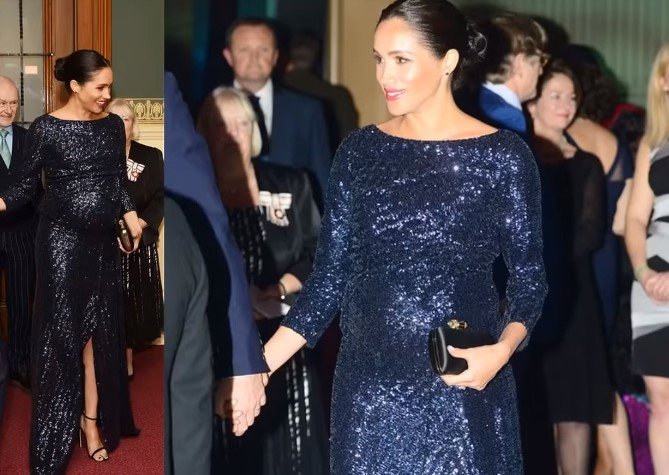 25. At the end of last month, Markle put on a blush pink ensemble by Brandon Maxwell to go to the National Theater in London. The estimated cost was roughly $5,000, but Mirror reported the original version of the dress is worth around $2,621.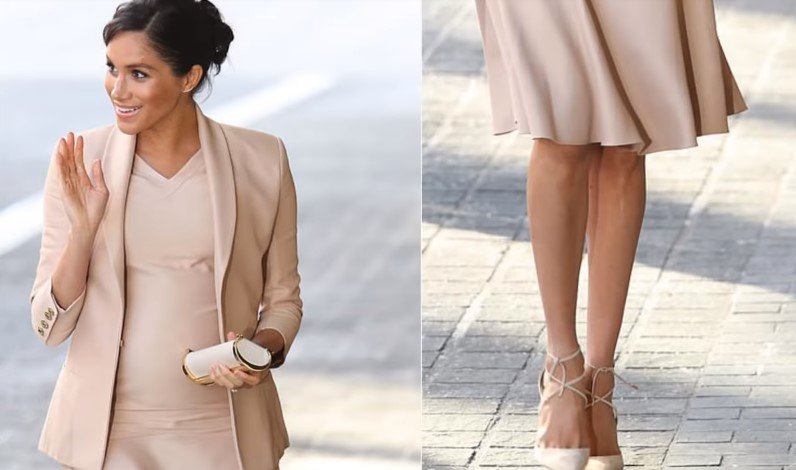 It seems that Meghan Markle has invested a lot on her wardrobe, but we guess that, as a royal, it is worth the cost. What do you think? Share your opinion in the comment section down below, and stay tuned for more articles about our favorite members of the British Royal Family. 
Source: Insider, Vanity Fair, Daily Mail, Mirror
Related: