Billy Joel Rocks Madison Square Garden in Celebration of His 70th Birthday
A-list entertainer, Billy Joel celebrates life in grand style as he performs beautifully to the delight of the crowd at Madison Square Garden, New York City.
The epic performer who turned 70 took to the stage as he made a lovely rendition of his songs. This is his 64th time on the Madison Square Garden stage.
Before he went on stage, Billy Joel enjoyed a sweet time with his family backstage as the celebration kicked off with a party.
In attendance was his wife, Alexis Roderick alongside his little daughters, one-year-old Remy Anne and Della Rose, 3. In a photo taken during Billy's party, the family looked radiant as they share a peal of hearty laughter.
While Alexis held her younger daughter in her arms, Della Rose looked cute beside her dad in a decorated Cone hat that read the words, "HAPPY BIRTHDAY BILLY."
In attendance at the celebrant's show were family and friends who graced the occasion to pay due respect to the infamous "piano man."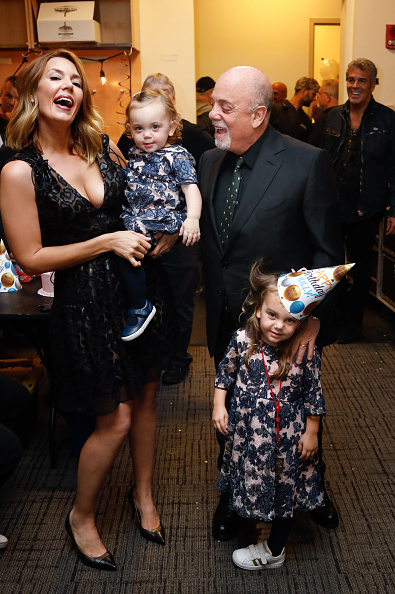 Revealing to PEOPLE, a source mentioned that the "New York State of Mind" crooner received delightful birthday messages from his celebrity colleagues including Paul McCartney, Pink, Garth Brooks and Brian Johnson all in Videos.
While he went on stage, Billy was joined by dignitaries who wished him well. New York Governor, Andrew Cuomo and his 24-year-old daughter, Cara, mounted the MSG stage as they celebrated the great singer.
Musician, Peter Frampton also took to the stage to sing alongside Joel in fulfillment of his post earlier that day on Twitter. Frampton wrote, as he also shared a photo of himself and Billy in a rehearsal:
"Soundcheck this afternoon at MSG with @billyjoel. So honoured to be asked to play at his 70th birthday show. Happy Birthday Billy!!! And thank you."
Joining Billy Joel on stage as well were his adorable daughters who sang on stage alongside their dad. While Della sang a "Happy Birthday" song, Alexa, 3, made a charming rendition of "New York State of Mind."
It isn't the first time Billy's daughter's joined him on stage, during a performance in December on the same MSG stage, the musician had his daughters join him as they each sang a duet with their father.
Although ex-wife, Christie Brinkley did not make it to the party, she made sure to send her well wishes to Joel as she shared a photo of the star musician and Alexa on stage along with a "birthday wishes" caption.