George Clooney Reveals He Will Not Tie The Knot With The Royal Family
The birth of Archie Harrison Mountbatten-Windsor is still being celebrated globally. Meghan and Prince Harry's bundle of joy arrived on May 6. It is indeed a joyous occasion for the entire royal family, though supporters are already looking forward to another big event: the revealing of Archie's godparents.
Since Meghan Markle is a former Hollywood actor with so many known A-list friends, many people are speculating on which famous celebrity could be chosen as a godparent for Archie. George Clooney is a huge favorite (the star even shares the same birthday as Baby Sussex), but he recently stated that we should take him out of the running. So why is Clooney most likely not going to be Archie's godfather? Read on to find out.
GEORGE CLOONEY AND MEGHAN MARKLE ARE GOOD FRIENDS
George being Archie's godfather was an excellent idea for many supporters since he and Meghan are understood to be close friends. According to some sources, it was Prince Harry who introduced Markle to Clooney and his wife, Amal. The two couples have remained on friendly terms ever since.
In fact, when Meghan Markle moved to London, Amal helped the Duchess out by introducing her to Amal's stylist. Furthermore, Amal was even present during Markle's baby shower. The two couples' relationship became more aware to the public when George stood up for Meghan against negative press some months ago.
'It seemed a little unjust, she hasn't done anything except live her life - she's a really kind, intelligent woman.'

George Clooney has told @GMB Meghan and Harry are a 'fun couple' and says Meghan's treatment has been 'a little unfair'.

More from our chat later in the show. pic.twitter.com/hEa46PleGf

— Good Morning Britain (@GMB) March 15, 2019
So it is no surprise that bookmakers are taking bets on the George being named godparents to the royal baby. Unfortunately, the Oscar-winning star, who shares the same birthday as baby Archie, has explained why he will not be a godfather,
"I think it's a little unfair," he said. "I've seen it when the press can turn on you for sort of ridiculous reasons and for almost nothing, and it seemed… to be a little unjust since she hadn't done anything except just happen to live her life. She's a really kind and smart and intelligent young woman, and they're a really wonderful, loving couple."
CLOONEY SAYS HE IS EXTREMELY BUSY TO BE A GODFATHER
Although George is close enough to Meghan and Prince Harry to be a godfather to their son, he recently explained that he has too much on his hands already. In an interview with Jimmy Kimmel, George said, "That would be a bad idea. I shouldn't be the godfather. I'm a father of twins; I can barely do that."
When quizzed if he would change his mind should Meghan and Harry approach him with the proposal, Clooney responded:
"I'm not going to be the godfather. I promise you that."
He also emphasized further that he "should not be anyone's godfather." Clooney revealed that he had even been asked many times by random strangers to be the godfather to their kids. Apart from that, he had received numerous requests to be strangers' best man as well.
WHO WILL BE ARCHIE HARRISON'S GODPARENTS?
It is too early to tell for sure who will be chosen as the actual godparents of Baby Sussex. However, fans have no shortage of personalities who they believe could be great choices. The first thing to note is that royal family members typically do not pick siblings to be the godparents of their kids, so Prince William and Kate Middleton are out of the running.
Nevertheless, other relatives can be chosen, so for Meghan and Prince Harry, some options might include cousins Princess Eugenie and Princess Beatrice. Many royal fans believe that Princess Diana's family will be connected somehow, so Harry might also choose at least one person on his maternal side of the family.
Meghan Markle also has other famous friends such as Serena Williams, Jessica Mulroney, and Priyanka Chopra, who could make excellent godmothers.
The godparents will be declared at the baby's christening, which should take place in a few months.
CLOONEY GRUMBLED ABOUT SHARING HIS BIRTHDAY WITH ARCHIE HARRISON
George Clooney has quipped that he found it "a little irritating" that the Duke and Duchess of Sussex's son was born on his birthday
The Catch-22 actor has teased that he already has some problems with baby Archie Harrison as he stole his "thunder" by choosing to make his long-awaited arrival on Monday, 6 May – the same day he became 58 years old. Speaking to Entertainment Tonight, Clooney said with a laugh:
"It was a little irritating [that he was born on his birthday] because that kid really is stealing my thunder! This was my day! I was sharing it already with Orson Welles and Sigmund Freud!"
Despite his displeasure of having to share his birthday with Baby Sussex, the Gravity star – who was invited to Prince Harry and Meghan Markle's wedding in Windsor last May – is "very happy" that his close buddies have become parents. He said: "I'm very happy. They are a lovely couple, so it is very exciting."
And, although George Clooney and his wife Amal have 23-month-old twins Ella and Alexander together, the silver fox does not feel in a position to give parenting tips as he believes his age means people often sigh at his advice. He said: "I don't give advice. I'm 58. At 58 you just go, 'Ugggh.' I just walk with a walker everywhere I go."
Clooney celebrated his special day by honoring his wife's role in helping to free 2 Reuters journalists, who had been imprisoned in Myanmar after over 500 days, for reporting on a massacre of Rohingya civilians.
"It was pretty great. We celebrated my wife's work at my birthday dinner. She has been working to get the Reuters journalists freed in Myanmar for a year, and they walked out last night. That is the best birthday gift. I couldn't be more proud of my wife and for Reuters. They stuck up for journalism. It is important," he said.
George's latest project is the Hulu limited-series adaptation of the classic Joseph Heller anti-war book. The actor wore many hats on the production—he directed two episodes, executive produced the show, and co-stars in it as Lieutenant Scheisskopf. And though George Clooney may joke about being "old," it seems obvious that he shows no indication of slowing down when it comes to his career.
When quizzed about what he wants his legacy to be, Clooney gave a reply that had nothing to do with his job. "I want to be remembered for my dance moves," he said—joking again, we assume.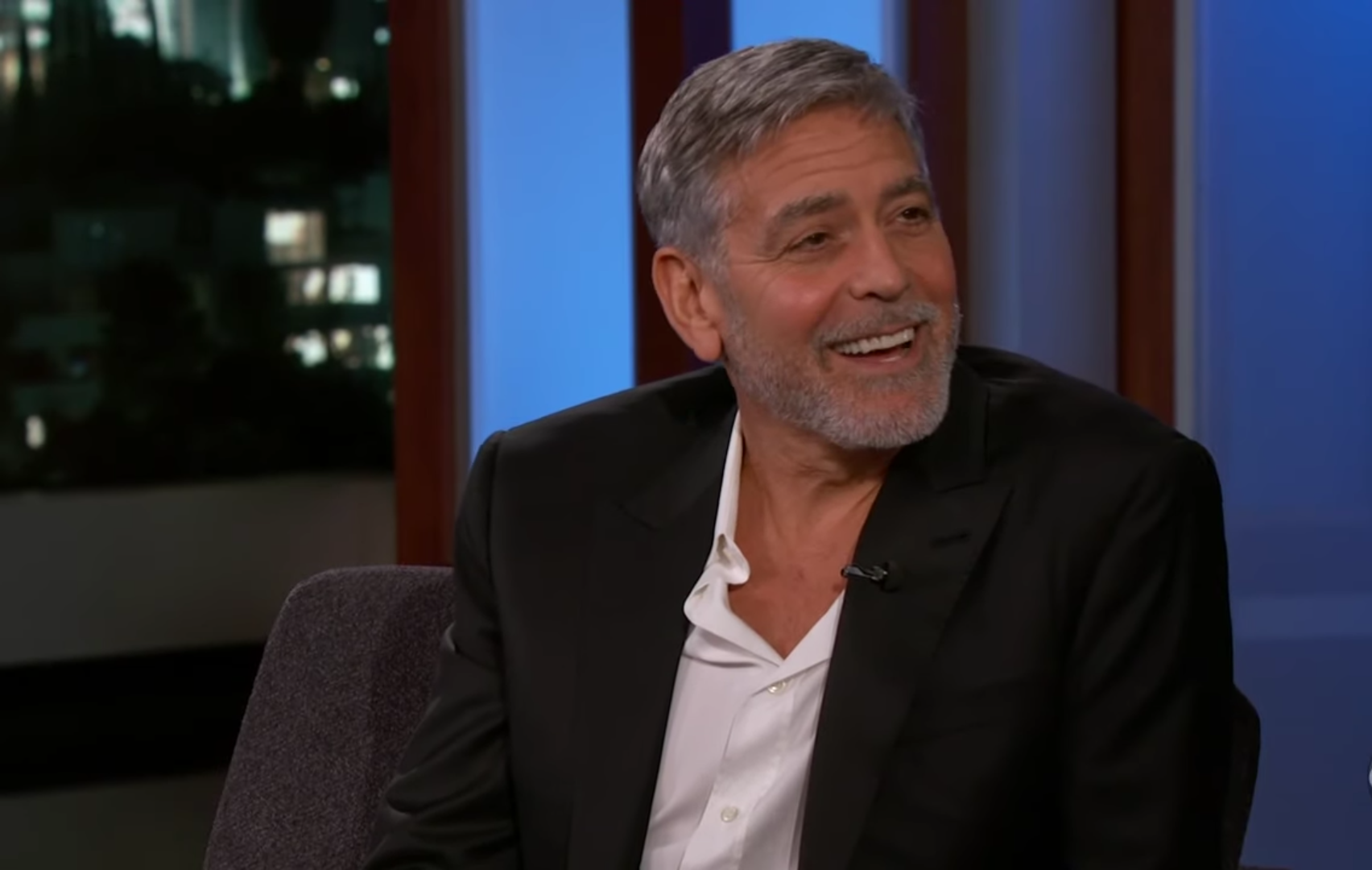 Meghan and Harry showed their son to the world after he had been introduced to his great-grandmother, Her Majesty The Queen.
The fascinated couple beamed with pride as they posed for photographs in the grounds of Windsor Castle with Baby Sussex and recalled their first few days as parents.
Markle, 37, said: "It is pretty amazing and I have the two best guys in the world, so I'm really happy. He has the sweetest temperament; he is really calm. He's just been a dream; it's been a special couple of days."

Prince Harry, 34, added: "Parenting is amazing, it has only been two-and-half days, three days, but we are just so thrilled to have our own little bundle of joy and share some precious times with him as he slowly starts to grow up."
It's not known when next the public will see Archie Harrison, but the most likely date will be the baby's christening, which is expected to take place in the next 2 or 3 months. Archie's godparents will be known then, but for now, supporters can only guess.
Paddy Power's odds on Baby Sussex's godparents include George and Amal at 6/1, Sir Elton John and Oprah Winfrey each at 25/1, David and Victoria Beckham at 12/1, and Meghan's close friend Jessica Mulroney as the clear favorite at 1/14. Tell us in the comment section the celebrities you think will eventually become Archie's godparents and why? And please, don't forget to share this article with fans of the royal family.
Source: npr, CheatSheet, Vanity Fair
Related: