Lady Gabriella Wears a Diamond Bridal Tiara Also Worn by Her Mum and Late Grandmother on Their Wedding Days
On Saturday, Lady Gabriella Windsor married Thomas Kingston at Windsor Castle. For the occasion, the Royal wore a special item that was once worn by her late grandmother.
Lady Gabriella Windsor, 37, wore an expensive piece of jewelry to get married to financier Thomas Kingston, 40, at St George's Chapel. She wore a Russian fringe-style diamond tiara worth more than $1 million.
The tiara was previously worn by her mother, Princess Michael, and her grandmother, Princess Marina, Duchess of Kent, on their wedding days. Gabriella stunned onlookers by wearing a bespoke wedding dress designed by Italian Luisa Beccaria.
Prince and Princess Michael of Kent's daughter's gown was made from lace and embroidered with flowers and embellishments. The gorgeous dress had a blush shade created by layers of tulle and organdie.
Her veil was made from layers of white tulle and also embroidered with flowers. Gabriella's bouquet featured a creamy ivory "Ella" rose with myrtle by David Austin.
Including myrtle has been a long-standing tradition for Royal bridal bouquets since Queen Victoria started it. Gabriella's bouquet also featured Juliet roses, Lily of the Valley, and white and apricot sweet peas. 
Her bridesmaids were Isabella Windsor, Maud Windsor, Leonora Weisman, Aurelia del Drago, Eliza Goldsmith, and Emily Conolly. Their cream dresses with blush underlays and sashes were designed by Beccaria.
The bridesmaids also had flower rings in their hair to match the bridal bouquet. Kingston's best men were Benjamin Crow, Daniel Crow, and Jamie Campbell.
The Pageboys were Frederick Murray, Rafferty Murray, and Karim Khawaja. Some of those who attended were the Queen, Prince Philip, Prince Harry, and Duchess Kate's family members.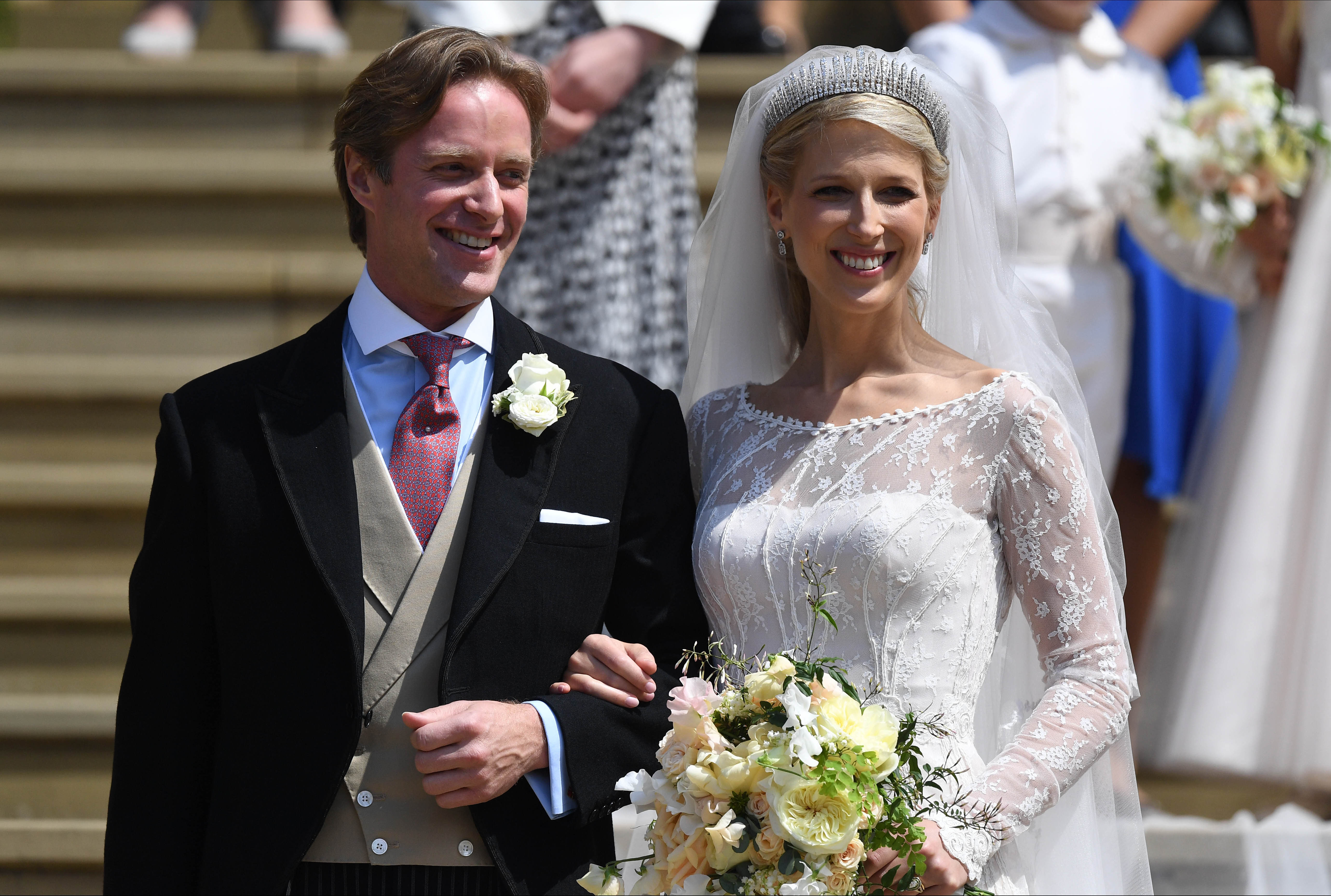 The wedding reception was held at Frogmore House. The bride and groom cut a cake which was made by Fiona Cairns, who also made the Duke and Duchess of Sussex's cake.
Gabriella arrived at St. George's Chapel by car and ascended the venue's steps accompanied by her father to join her husband-to-be.
Prince Michael is the Queen's first cousin and that makes Gabriella her first cousin once removed. She's also a fairly close relative of Prince William and Prince Harry.
Michael is also distantly related to Prince Philip.