Marlo Thomas Poses for Rare Photo with Husband Phil Donahue at American Icon Awards
Former 'That Girl' actress Marlo Thomas and talk-show host veteran Phil Donahue made a rare appearance at the American Icon Awards in Beverly Hills on May 20. The duo attended the ceremony alongside Robert De Niro and Al Pacino.
Sunday evening was a night of glamor with many famous faces flashing their elegance. The spotlight, however, went to the couple who rarely have their photographs taken together but were anything but camera shy at the event.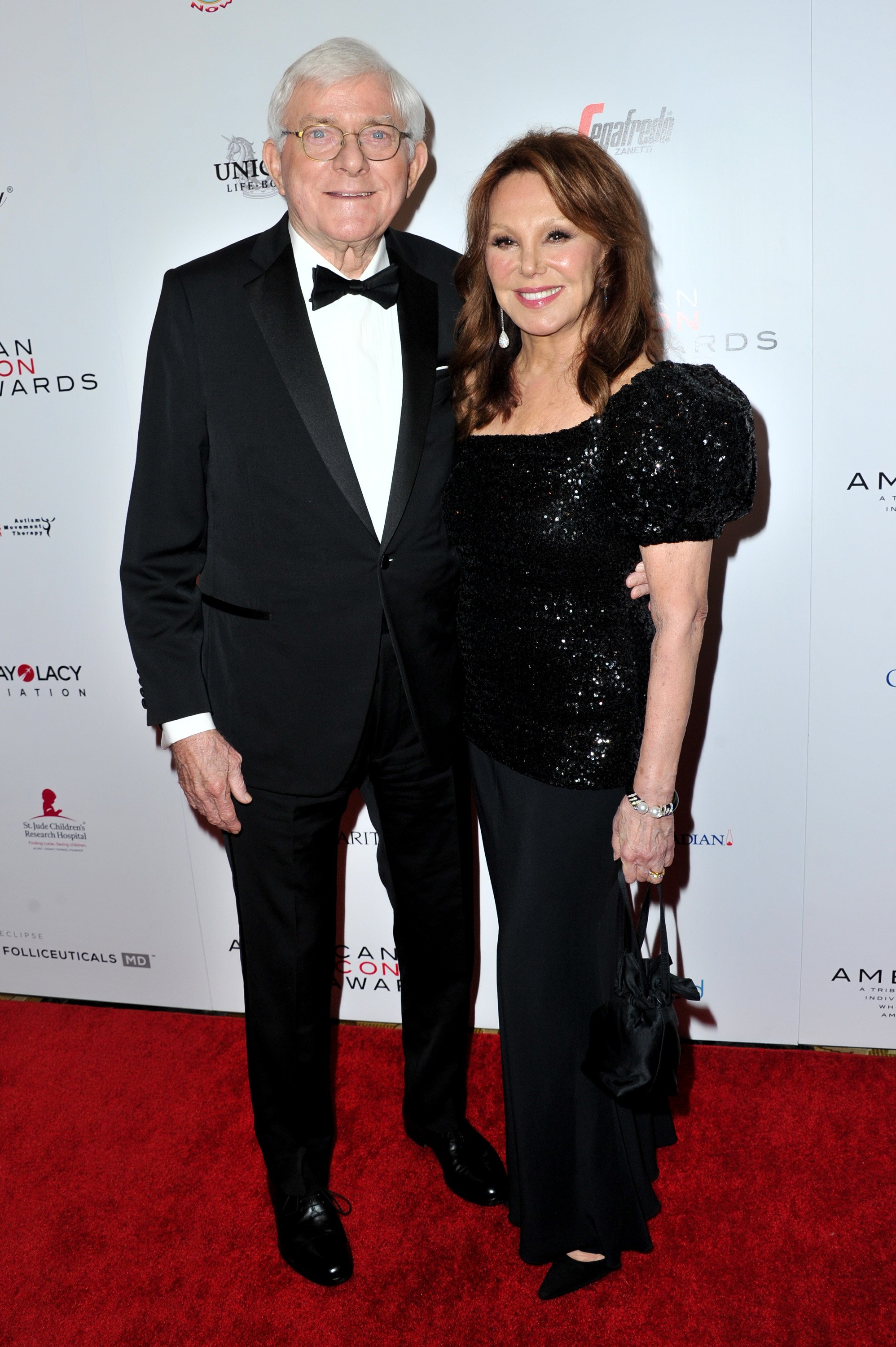 Marlo -- known for playing Jennifer Aniston's mother on Friends looked much younger, modeling her sparkly black gown with puffy shoulders and a scoop neck coupled with long earrings and a pearly decorated cuff bracelet. Of course, Phil wasn't far behind with his dashing tux and his iconic smile.
Phil gushed about his wife who served as the National Outreach Director for St. Jude Children's Research Hospital back in 2015. "Everywhere she goes, she wins awards," he said in NYC.
"At airports, they knock me over — they say, 'We love That Girl'. Now and then they look me over and say, "We like you, too, Regis!"
He was eager to say that when he and Marlo first met, it was "Love at first sight". The couple's long history together has seen the most of everything possible, from small roles to becoming the icons during their prime. 
Coming from a Hollywood family and raised in Beverly Hills by mother Rose Marie Mantell Thomas and father Danny Thomas, Marlo took on acting early and worked on numerous shows such as Bonanza, McHale's Navy, Ben Casey, Arrest and Trial, and The Joey Bishop Show.
She struck fame in 1966 and continued till 1971 when she played the character of Ann Marie in the show 'That Girl'.
Phil, on the other hand, was a big-time TV star. He created and hosted The Phil Donahue Show later renamed to Donahue which was the first of its kind to incorporate audience participation. 
His show aired from 1967 until 1995 and guests such as Bo Derek, Rosie O'Donnell, and Marilyn Manson were featured. He also had several political leaders on his show like Jerry Brown and Bill Clinton.
"Marlo Thomas is that girl that every woman wanted to be, that every boy fell in love with. She is beautiful, she is brilliant, she has style and poise and lives her life in kindness," Winkler noted, during the 31st annual spring luncheon where Thomas was honored with the Champion of Children Award.