Kate Middleton Stuns in Sleeveless Gown of Ruffled Lace While Wearing Lady Diana's Iconic Tiara
Kate Middleton's adornments at the recent state banquet consisted of items representing honor and rich histories. One of them paid tribute to her late mother-in-law. 
The Duchess of Cambridge attended the official state banquet for President Donald Trump and First Lady Melania Trump's visit to the United Kingdom on June 3. 
Joined by her husband Prince William, Middleton looked gorgeous in a white Alexander McQueen gown. The two walked through Buckingham Palace alongside other dignitaries. Photos are found below. 
Middleton wore her hair in a classically elegant low bun, but she topped it off with the extravagant Lover's Knot tiara, a possession of the Queen. The piece is well-known to have been a favorite of the late Princess Diana.
The 37-year-old matched the tiara with Queen Elizabeth The Queen Mother's sapphire and diamond fringe earrings. The late dignitary was married to King George VI and died in 2002 at age 101. 
She last wore the earrings in 1986 for the "Rookery Nook" play by Ben Travers, reported Harpers Bazaar. Middleton's first appearance with the earrings was for the 100 Women In Hedge Funds Gala Dinner in 2015. 
The Duchess of Cambridge topped off her sleeveless dress with a new adornment. A yellow Dame Grand Cross of the Royal Victorian Order was placed on her left side. 
The Queen honored Middleton with it in April for the work she's completed as a royal to the sovereign. She also wore a blue sash over her gown. Her modest makeup appropriately completed the stunning ensemble. 
The Cambridge Lover's Knot tiara was initially created as a gift to Queen Mary in 1914. It was redone with pearls and diamonds pre-owned by the family and based off of Princess Augusta of Hesse's headpiece.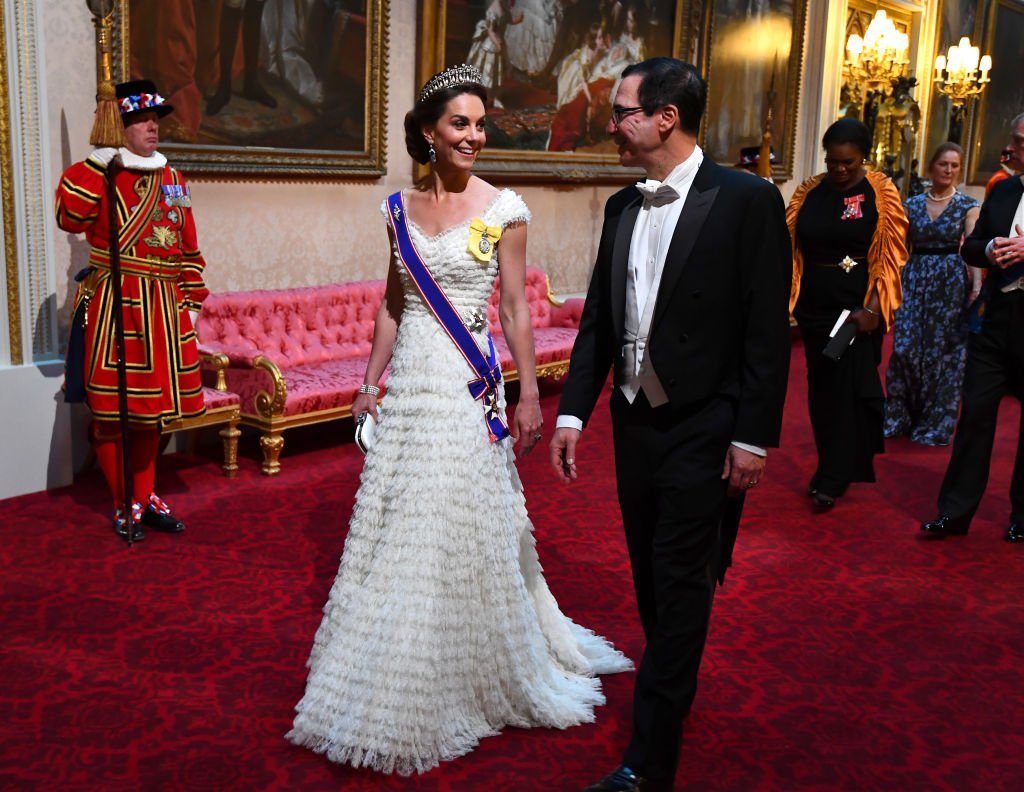 Queen Elizabeth inherited the tiara in 1953 and wore it several times during that decade. She then loaned it to Princess Diana for her wedding day in 1981. Diana wore something else, but the Lover's Knot became a favorite piece of hers. 
She subsequently had to return it to the Queen following her and Prince Charles' divorce. Thereafter, it stayed in hiding until 2015, when Middleton emerged with it at Buckingham Palace.
Donald and Melania's visit is expected to last for three days. They arrived around 4 p.m. on Monday via Air Force One holding hands as they exited the plane. 
In addition to meeting the queen, the president will reportedly discuss climate change and Chinese technology firm Huawei with Prime Minister Theresa May.